When the landscape looks good and the water has settled...you can start adding critters to the tank. I would recommend allowing your tank to cycle for a couple of weeks to be safe for the critters. Maybe throw a couple of gold fish in the get the bio cycle going. (I added some water from one of my other aquariums to help it along). Make sure the water is treated with Declor.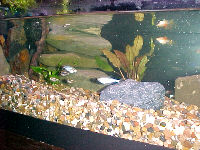 I started out with several types of fish but soon found out that the frogs thought they were food. Now I have Mickey Mouse Platties for show and feeder guppies for the frogs.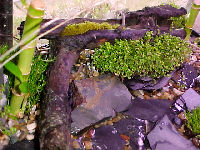 Notice the natural moss growing on this little log I found at the river.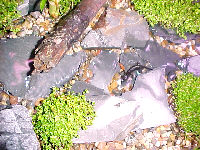 I have three Salamanders. Actually Firebelly Eastern Newts. They love to be hand-fed crickets.

Here is a close-up of "Sally". Short for Sally-mander...duh.
Look real close...the two sallys are snuggled up together in the hole of the log.
Awww! Aren't they cozy.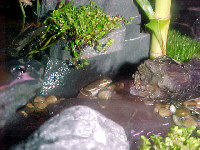 I also have 4 floater frogs, 2 toads, and 1 tree frog.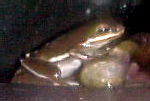 Cute little guy...
They love their little hiding places... A final word about critters: Don't expect to see them alot. They like to lounge some during the day and hunt at night. Make certain that you have a regular day/night routine for them.