Well, here is what happens after you build your first Viquarium. Yup, ya wanna build another...and another!

Well, here it is...a 10 gallon tank that I found at a garage sale. I couldn't pass up the great deal I got on it, so...well, here we go again. This time I will show you the finished product at the end. Hmmm, wonder how it will turn out???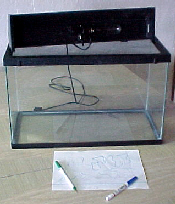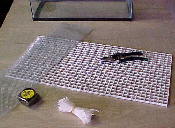 I gathered up some of the supplies that I would be using. As you can see, the same type of egg crate, screen, and ties. I've decided to make this one a bit different than all the rest I've seen. Instead of the landscape sloping from end to end...I will have it sloping from back to front. That means that the water will have to flow all across the top in back.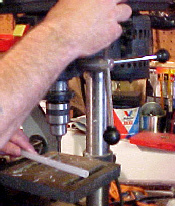 I took a piece of plastic tubing and cut it long enough to reach from one side to the other. Then (with my drill press) I drilled holes about 1/4 inch apart all along the tube.